Concrete Porch Repair
Your Home is one of the biggest investments you will make in your lifetime. It may be your dream home or it may be a step to owning your dream home. Either way, it's yours right now and you are proud of it. People buy a home for their own personal reasons. There are always things on a "wish list" when someone buys a new home and curb appeal is usually one of them.
How your home looks from the street and how welcoming it feels when you walk up to your home is important. If your home has a concrete front porch or front patio, making sure that the porch is not sinking or uneven may not be something you have looked at in a while but your visitors notice it right away.
Porch Repair: Eliminate the Threat to your Foundation
A front porch or front patio that needs lifting also may be posing a threat to the foundation under the area underneath it. Water that is running towards the house where the concrete is uneven, may be compromising the foundation when it is raining or when the snow is melting. If your basement walls are wet or there is water on your basement floor, you might have a leak in your foundation.
Avoid the unnecessary costs of repairing your foundation by making sure your patio or porch repairs are taken care of before it is too late.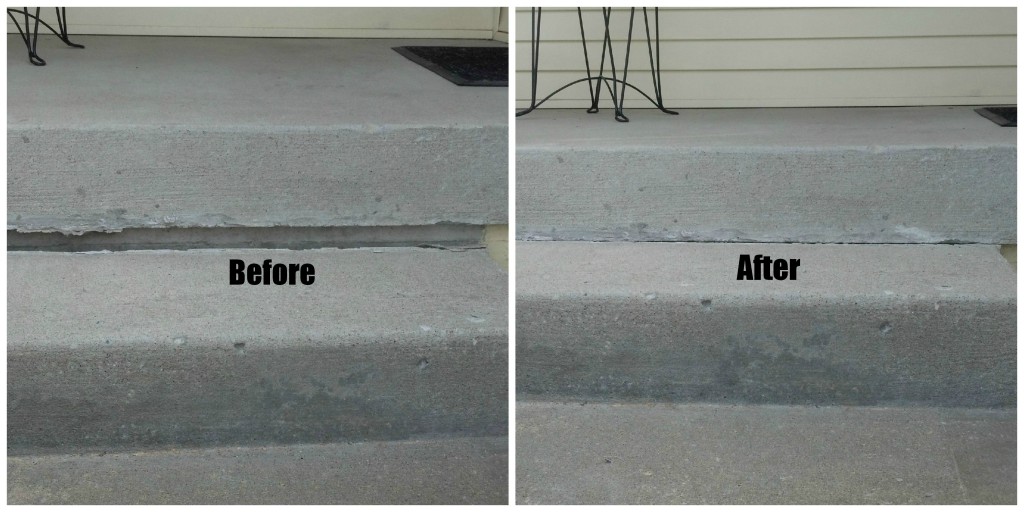 We use an eco-friendly polyurethane foam to raise and lift your concrete porch slab back into place. Our polyurethane foam is lighter than traditional cement, water and dirt filled mud jacking, takes less time to fix, is less invasive, less mess, does not contract with weather and will not settle.
We use High Tech Foam to Raise Concrete
Did you know the steps should be 7 3/4″ high and that anything more than that height may be difficult to maneuver for small children and older adults?  When your porch and/or your porch steps begin to sink the step height increases and the chance of more damage to surrounding structural systems is a greater possibility. Fixing problems, when they become obvious, is always less expensive then waiting till they get worse!
Contact or call the porch and patio lifting specialist at Concrete Raising Systems at (816) 419-8306 and let us give you an estimate to lift your porch and eliminate the threat to your home's foundation!