Winter usually finds people spending a significant amount of time indoors. Unless you get a break from the cold, like we have been getting in the Midwest, inside is the best place to escape the cold, snow and wind. By January's end, you may be all baked out spending much of your indoor time in the kitchen. For a sense of accomplishment and organization, why not try one or two of these low or no-cost home improvement ideas!
Move the furniture in a room
Take a look at your family room. You've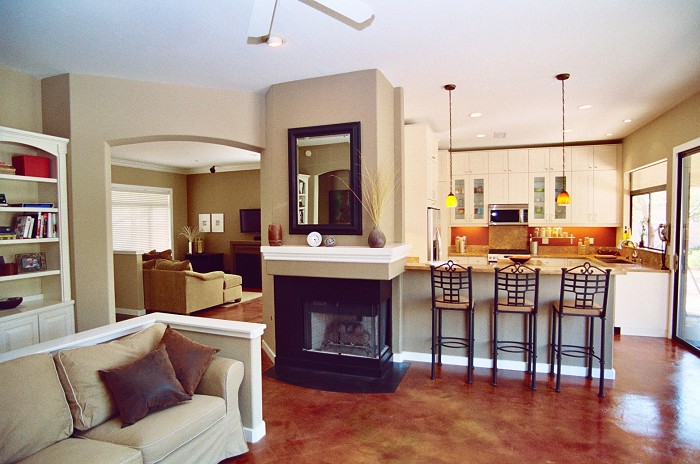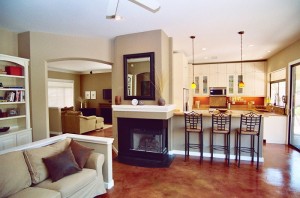 probably had everything in that room exactly the way it is now for quite some time.  For a fresh new look try moving elements in the room around! Take all the furniture, coffee tables and lamps out of the room. Make the room as bare as you can. This is also good time to vacuum or use that Steamvac that you bought hoping to save some money having your carpet professionally cleaned. If you have wood floors, vacuum  and then properly clean them. Next, dust all the pieces that you had removed from the room. Vacuum the furniture. Pick up the sofa cushions and vacuum under them as well. Now that the room is clean and fresh replace the furniture in a totally different position than where it was. If the room has a fireplace, don't put the back of the sofa to it and don't make it the center of the room either (unless your TV is mounted above it.) Is your family room space large enough to have a quiet reading corner? Bring a chair or armchair and a small table from another room and make one! Add a lamp and you've now made your family room a reading room as well!
Create a photo wall
Do you have photos in frames all over your house? How often do you really pay attention to them? Try making a photo collage on one wall in a prominent room of your house. If many of the frames are outdated, jazz them up with spray paint. Painting in the winter may be a little more difficult than summer. Move the cars out of the garage and use a corner furthest from your home. You can also use regular non-aerosol paint to get the job done. Take all the photos and glass out of their frames. If you are painting metals, use a primer coat first. Then paint he color you are choosing for all the frames. Painting them all the same color with give uniformity to your photo wall and the fact that each is a different texture and size will give it interest. When the frames are thoroughly dry, replace the glass (that you've cleaned) and the pictures. Before you put a nail in the wall, arrange the photos on the floor first so you can judge how they will look grouped together. Now you have all your favorite people together in one place!
Repaint pulls and handles
If your pulls or handles in your kitchen or bathroom can be painted, try it! You can use the same painting method as you did with your photo frame wall. Spray paint is definitely a better choice for this project. Benjamin Moore recommends painting outside on a day where the temperature is above 50 degrees. When you remove the pulls and handles, take the time to clean out the drawer or cabinet they came from. Might as well start really clean! After the handles are completely dry, replace them!
Paint 1,2, or 4 walls
Choose a room in your house that could use a fresh look. Perhaps it is your family room! Before you put all the furniture back, consider painting 1, 2 or all four walls of the space. If you won't need much paint, go to your local big box store and look for a gallon that someone returned. They are usually on sale and will cost much less than having your own color mixed. It's worth a try! If they don't have anything close to what you like, choose your own color. Go outside your comfort zone a little and choose something that will pop! A new color on the walls can give a room a real improvement.
Too much Clutter? Keep the mementos
Look around the house, do you have a lot of 'stuff' that is just taking up space. Pair down and eliminate the clutter. Keep out only what is meaningful. Not sure you can do it? Put the items you remove in a box and store them in a safe place. If you find you really miss something, you can bring it back out. If you don't miss it, donate it to your local thrift store or wait for the spring garage sale!
Home improvement projects don't have to break the bank, they just take a little of your time and attention. It will perk up the space and make valuable use of your time indoors this winter. Before you know it, the snow will be melting and spring will be here. When that time comes you can turn your attention to home improvement projects outside, like taking care of your driveway and lawn!