Enjoying your backyard patio in the spring and summer for cookouts is a joy for families in Kansas City. Many of your outdoor dinners are held on the patio right outside the back door. If your patio is made of concrete, gearing up for BBQ season should include an inspection of your concrete patio and porch.
Is your Concrete patio sinking?
A concrete patio and steps are close to the house. Investigate the bottom of the step and ensure that the gap between the step and the patio is no more than ¼". Steps built to the current code should not exceed 7 ¾ "in height. Your steps can be smaller but not higher than 7 3/4″.
Look to make sure that your porch is not sinking or uneven. Uneven slabs in your patio of 3-4" can be hard for a small child to navigate and may pose a tripping hazard to family members and guests.
Your Concrete front porch repair is not too small! Call us!
A front porch that is sinking toward the house poses a threat to your foundation as water from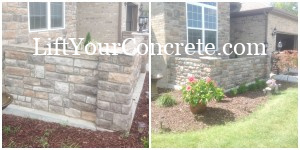 rain or melting snow may seep into the gap between the patio or porch and the house, which could compromise the foundation of your home in that area, increasing the likelihood of your foundation developing cracks, a wet basement or bowed basement walls. All these problems add additional costs to fixing the root of the problem- your uneven patio. Like just about everything, the longer you wait to repair a problem, the more time and expense it will take to correct it. Our foam expands and finds all the empty spaces beneath your concrete slab, filling the voids and lifting the concrete. Our advice: don't wait till it gets worse. Waiting may make your repair more expensive.
Fix your sinking concrete patio before it causes expensive damage
Avoid the additional damage that a sinking front porch or patio can cause to your foundation and basement walls and have it raised.
Contact or contact Jason and Ken at Concrete Raising Systems in Kansas City today at (816) 419-8306 and we can raise your front porch or patio so you can enjoy it for years to come. We can work in small spaces and we won't leave your lawn torn up. Our equipment doesn't damage your grass and we don't leave a mess for you to clean up! Our holes are smaller and we use less of them than traditional mud jacking.
Call us today for an estimate this week! No deposit is required and the owners do the work! Support local small businesses! You'll be glad you did! (and truthfully so will we!)