Thanksgiving is just around the corner and with it, black Friday, shopping for the holidays, Christmas parties, and lots of fires in the fire place.  The last 2 winters (except for the snow storm in May last year) gave us  little snow and not much winter in Kansas City. In fact, according to the National Weather Forecasting Service, the 2011-2012 season #1  in their Top 10 list for Lowest Seasonal Snowfalls in Kansas City!
Snow fall and lack thereof, affects nature, people and small businesses in different ways. The Farmer's Almanac is predicting bitterly cold weather with 'normal snowfall' for the Midwest this winter. Normal usually means 18" of snow for Kansas City. Compare that to the 3.9" of snow Kansas City had last year and, well, you get the picture. More of the white stuff than we are used to lately.
Too little snow can affect available water supplies and create water shortages, which are more important as the weather in Kansas City in the summer has increased an average of 3 degrees in the last few years and is expected to increase by an average of 10 degrees in the next 10 years. Too much snow can result in flooding as well as extended snow days for kids in school which pushes summer break more into the summer.  We are still in November but the forecast is leaning to 6" of snow for areas that are traditional snow-belt over the Thanksgiving Holiday. The forecast here in Kansas City look likes rain. But the snow will come and when it does you need to be prepared.
Buy good strong shovels
Having a foot or more of snow on your driveway makes it almost impossible to drive in, unless you have a car or truck designed to maneuver in such conditions. Households with strong teen-agers keep extra shovels in the garage, putting kids to work or hiring neighborhood kids to do the shoveling for them. Having the right equipment will make the job easier. Purchase heavy duty shovels from your local hardware store (buy local). There is nothing worse than having a shovel handle break when you try and shovel that thick, wet heavy Kansas City snow!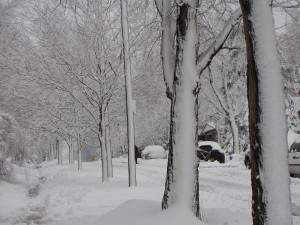 Keep a few bags of ice melting alternatives in the garage
Your driveway may be free from snow but Kansas City has its fair share of ice in the winter. A little sleeting rain coupled with a dropping temperature and voila, you have ice! An icy drive or walk way is dangerous to car drivers and pedestrians. Be prepared this winter with a few bags of ice melt.  You can stock up on traditional ice melt but why subject your concrete to the damage that Ice melt inflicts? Ice melt also corrodes metal and is harmful to ground water and animals. Consider looking into the alternatives such as SafePaw, cat litter, gravel, wood chips and straw or other eco-friendly alternatives to sodium chloride this winter to make your way safely around ice.
Check with your tires and your insurance company
The next time you have you oil changed, ask them to check the tread of your tires. A tire with good tread will handle the rain, snow and ice more effectively than a balding tire. If your car is front wheel drive, rotate your tires so the back tires, which are now the front tires, can get you through one more snow season. Call your car insurance company. Make sure you have Roadside assistance. If not, some companies let you add it for as little as $3.50 per vehicle, if you already have a comprehensive policy. You can also get AAA. Carry the Roadside or AAA phone number and account number in your cell phone. When you need to have your car towed in the winter because you are in a ditch or had a minor accident, having the coverage and the information handy will ensure you get help that much faster.
Keep 2-3 days of food supply
A snow storm can hit in the middle of the night when you're asleep.  It is a good idea to keep some non-perishable food in the house so you can feed your family for 2-3 days in case there is a major snow storm. Stocking up on canned goods, powdered milk and other non perishables will get you through the next day or two until roads and schools are open again.
Hire a snow plow company today
Now is the best time to investigate hiring a professional snowplow company to remove the snow from your driveway for you when it snows. Companies who plow residential driveways in a timely fashion can only handle so many customers. Make the calls now and inquire about rates. It will be difficult to find someone to plow your driveway when there is already 6" of snow on it and you want it done right away.
Check your driveway for cracks
Water from melting snow and ice can cause a lot of potential problems for your foundation in the spring, if your driveway has sunken or has cracks by your garage doors. Most kids and snow plow companies may pile the snow in places by your house inviting more water run-off in sunken places. Melting snow will seep into those voids under the concrete, causing even more sinking in the future. If your driveway or sidewalk in sunken, call our professional concrete raising company, to lift and raise your concrete before the winter rains  and melting snow has the potential to cause more problems for your driveway and foundation. Concrete repair can be done up until the ground in frozen!
Kansas City is beautiful when it snows. The trees are covered white and there seems to be a sense of peace all around. Experience the peace of the season and be prepared for the snow that is coming this winter. Take the steps you need to take now to enjoy and get through the snow fall of 2014!