Happy New Year from Concrete Raising Company. As we look in the rear view mirror at the last year, we are pretty pleased with what we have accomplished this last year. Business is good because of what we believe are a few important reasons.
We are a small Concrete Repair business
When we started their business a few years ago, we came to it with a background in construction. We partnered together because we both had the same values for exceptional, high-quality work. We knew we could trust one another and that our skills and abilities complimented one another. We knew we wanted to stay small. A few years later it is still just the two of us. Ken visits the customers and quotes the job (if we know we can raise the concrete), and Jason follows up with the repair. At some point last year, we employed a young man to work beside Jason. As we plan for 2016, we'd like to help train another responsible young man and give him an opportunity in this business. It has to be the right person with the right work ethic. If you know anyone like that, send him our way.
We only do one thing- Concrete Lifting with Foam
When we started this business we knew, we only wanted to raise concrete with foam. Other companies doing concrete repair with foam may also offer mud jacking or roofing. We decided we wanted to be the best concrete foam lifting company around. We know our equipment so well that the company that sold it to us calls for input and feedback. We have also become a resource for other companies outside the state looking to get some good information about Concrete Repair with Foam Lifting. So you could also say we occasionally consult.
We do that one thing as if our reputation depends on every job
We, Jason and Ken, know how important our reputation is and how important referrals are. We know that one bad experience with a customer could hurt our business. Their solid reputation in the construction industry has carried into their Concrete Repair business. Our customers are happy with the way we do business. We show up on time, do the job they hired to do and clean up when we're finished. We meet customer expectations, and that has helped the business grow.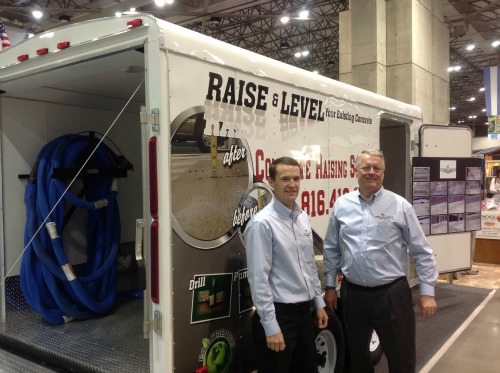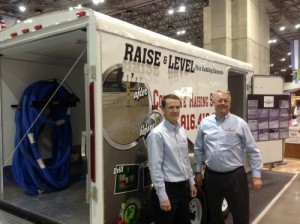 • Johnson County Home and Garden Show, Overland Park Convention Center, January 22-24
• Kansas City Home and Gardening Show, American Royal, February 12-14
• Home Builders Association Home Show, Bartle Hall, March 18-20th
If you are going to any one of the home shows, stop by and visit Ken and Jason. Get all your questions answered you might have about the difference between Foam Lifting and Mud Jacking to repair your Concrete driveway, sidewalk, porch, patio, steps or basement floor. If you want to get a little more information before you stop by, you can read one of our blog posts on it or the home page of the website.
We are pretty happy with the way things are going for Concrete Raising Company. But that isn't happening by accident. We are looking forward to the next year and continuing our commitment to be the best Concrete Raising Company in Kansas City.