Lifting concrete with polyurethane foam has many names, foam jacking, poly jacking, foam lifting, and there may even be a couple other names as well . All this means is the company uses an eco-friendly, two-part polyurethane foam process to lift and repair sunken concrete.
What can Foam Jacking fix?
Foam Jacking can lift and repair concrete slabs in a driveway, steps, porch, patio, garage floor, and basement floor.
Why is Foam Jacking better than Mud Jacking?
Foam jacking is better than mud jacking because the holes that are required to be drilled for foam jacking are smaller than the holes that are necessary for mud jacking. The lifting product that is created with the two-part foam process will spread up to 7 feet in either direction. Mud does not spread, so there is a necessity for larger and more holes to lift a slab of concrete. Foam jacking is better than mud jacking because the hardened foam is not affected by water and weather. The concrete will not sink again once the foam has lifted it. The mud jacking material is made up of water, concrete and dirt. Once the water from the mud evaporates, the concrete may once again sink. The foam used to lift and repair the sinking concrete is lighter than the materials used in mud jacking. Foam jacking is not as messy as mud jacking, and it takes less time to lift concrete with foam as it does with mud.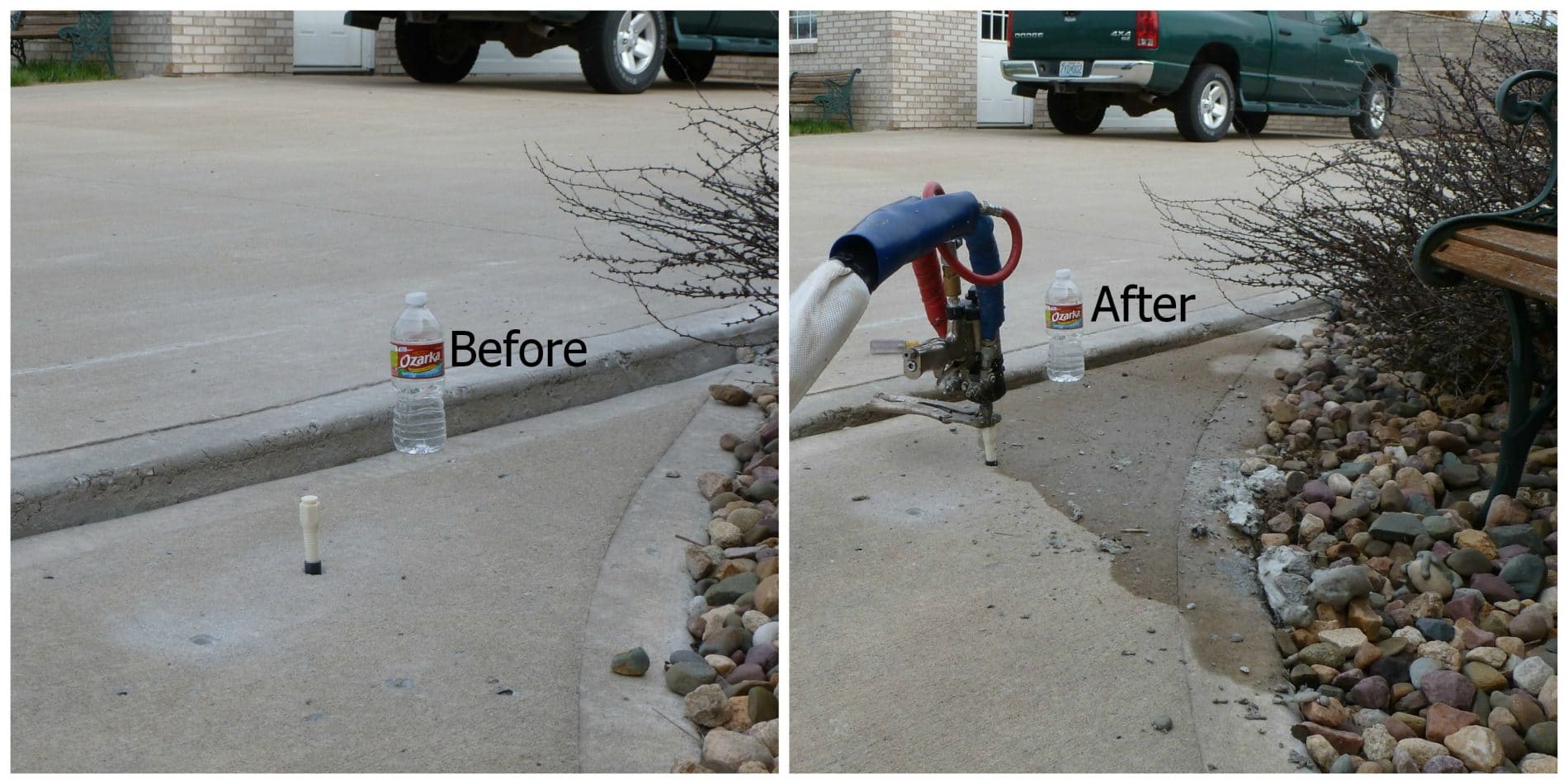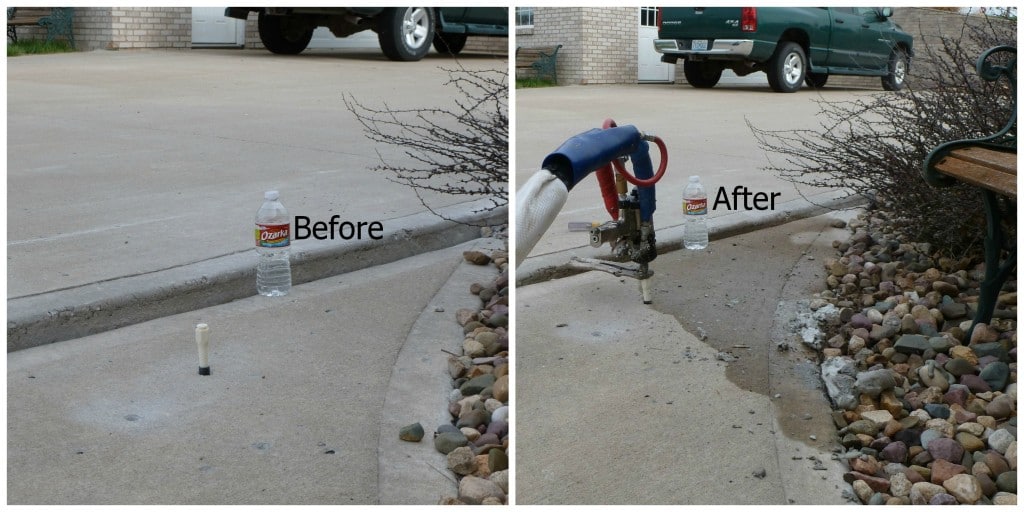 Can poly jacking be done between buildings and in hard to get to spaces?
Poly Jacking equipment is smaller than mud jacking equipment. Poly jacking can be done between buildings on sidewalks, patios, steps and porches.
Does Foam Jacking cost more than mud jacking?
Typically, poly jacking is comparable to mud jacking. If you consider the fact that 40% of the poly jacking jobs are to lift and repair concrete that needs to be repaired after it has already been mud jacked, the answer to that question is, yes. Lifting concrete will always be 30-40% less expensive than replacing concrete. A reputable Poly Jacking company will be honest in their evaluation of the job. They should let you know if the concrete is beyond repair and needs to be replaced.
Can foam insulation be used to repair concrete?
The answer to that question is, no. The tendency for some inexperienced companies and DIYers may be to try and cut costs and use interior insulation as a method of lifting and repairing concrete. Concrete Raising Systems has been in the Foam Jacking business for a number of years. There is a difference in the foam that is used to repair sunken concrete and to insulate a home. A seasoned professional is recommended to complete the concrete lifting and repair work. The equipment used in the polyurethane foam process needs to be clean and in good working order. The part A to part B ratio in foam jacking is adjusted based on the current climate and conditions. Experience is highly recommended for any job that is to be completed to the satisfaction of the client.
Foam Jacking Kansas City is what the professionals at Concrete Raising Systems do best. When the supplier who sells foam to a large majority of the foam jacking companies around the U.S. asks the owners at Concrete Raising Systems for their advice about their foam products, you know Ken and Jason are the best at what they do with Foam Jacking.