Come one and come all to the 38th Annual Liberty Fall Fest on September 26-28th on the downtown Liberty Square. This event is sponsored by the Liberty area Chamber of Commerce and will be held rain or shine starting at 11:00 am on Friday.
The Liberty Fall Festival began as an event that had close ties to The Clay County 4-H and William Jewell Homecoming festivities. The Liberty Fall Festival is always held the last full week-end in September.
There is something for everyone at The Liberty fall Fest! Event attendees will enjoy a variety of booths and things to do while attending this year's festival. This year the Liberty Fall festival will feature 175 quality arts and crafts booths featuring original designs and artwork for textiles, clothes, ceramics, decorative wood, photography, drawings, prints and metal work as well as wearables such as jewelry and leather goods.
Looking for fun for yourself and the kids? The Carnival will be open on Friday from 3:00- 10:30 pm, Saturday 9:00 am-10:30 pm and Sunday 12-4:00 pm. On Sunday ride all day with the purchase of a wristband for $20.00. Anytime the carnival is open you can also purchase 30 ride tickets for $20 or get one ticket for $1.  The Liberty Fall Fest has many complimentary events for the kids as well!
Liberty Fall Fest Complimentary Fun
For kids ages 2-6 on Saturday 1:30-3:30 pm (after the Parade) head over to the Pedal Car Races in front of the Second Baptist Church. Fastest time in the car wins a prize!
Kids ages 4-10 are welcome to the Quick Start Tennis Corner on Friday from 6:00-9:00 pm and Saturday 1:30-5:00 pm. Tennis racquets and balls will be provided. The Tennis Corner is also in front of the Second Baptist Church. You never know where the next Tennis Open champ may get his or her start!
Little cowboys and cowgirls can also participate in the Memorial Stick Horse Rodeo. Bring your own to ride or ride one of the stick horses the 4-H volunteers will have for them! The Stick Horse Rodeo is located on the side yard of 9 S Leonard Street.
Liberty Fall Fest Parade
The Liberty Fall Fest would not be complete without the Parade! Come watch along the new parade route. Come early and it along the curb or bring your lawn chairs and for the perfect place to watch. This year the parade will begin at 11:00 am at Heritage Middle School on Kansas Street. It will head North onto Leonard, West on Franklin, North on Gallatin, west on Mississippi and end at Grover Street. Here will be lots of great places for families to take photos and cheer for the 100 local parade participants!
Congratulations to Parade Marshalls Harvey and Susi Seely. Harvey and Susie, both barbers since the 1950's, and owned Harvey's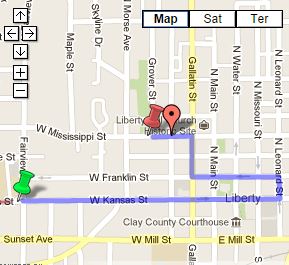 Barbershop on Kansas Street till they retired last October.
Music at The Liberty Fall Fest
The Liberty Fall Fest is known for having some outstanding live entertainment as well. On Friday from 7-9:00 pm at the James S Rooney Justice Center enjoy the explosive country music act of 6 Degrees West. 6 Degrees West has opened up for The Eli Young Band, Kenny Chesney, Eric Church, The Zack Brown Band and Lonestar to name a few. Joyride will delight The Liberty Fall festival at the same location and same time on Saturday night. The Justice Center will also be the scene for many local talented music and dance acts from 1:00-5:30 pm on Saturday.
This year's festival will be featuring many new booths at the event. One such booth is Concrete Raising Systems. Come and meet Ken Praiswater and Jason Roland in booth 206,207 and 208, local Kansas City boys, whose business helps homeowners, property managers and city officials fix and raise concrete with eco-friendly polyurethane foam! They'd love the chance to talk to festival goers about their uneven and sometimes dangerous sidewalks, sinking driveways, slanted patios and porches and hollow sounding garage floors.
The 38th Annual Liberty Fall Fest is family-oriented event that draws the local community to the Liberty Square. With lots to see and do and hear your September week-end will be full of fun and entertainment! See you there!