The snow is coming. The forecast of snow may have eluded us one weekend only to blast us sometime soon. When snow does blanket the Kansas City area, we tend to forget what is underneath. Hibernation sets in, the squirrels settle in, flowers are nowhere to be seen, and we get the snow shovels out, turn up the heat, grab our blankets, build a fire, sit back and relax. Is snow plowing a way you clear your driveway? That uneven sidewalk and driveway you didn't get repaired will be fine until next spring. Are you sure about that?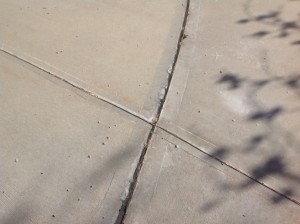 If you shovel your driveway yourself or have it done by a truck with a plow, you chould be damaging your driveway. An uneven driveway or sidewalk makes shoveling difficult and can cause your cement to chip with each blade pass. Repairing your concrete by lifting the slabs back into place (if it is in good shape) will raise them to level with the other concrete slabs around it. That is a given. And if your driveway has been plowed numerous times throughout the winter by a company using an F150 0r 250, they may have chipped the cement through no fault of their own. You can also chip your concrete by hand shoveling as well.  In the spring, we can raise your sinking driveway to ensure it is level again, but the damage done by snow plows and hand shoveling cannot be fixed.
Avoid a Sidewalk Tripping Hazard
The uneven sidewalk is also a larger tripping hazard in the winter as it is harder, if not impossible, to see the sidewalk under the snow.  A Holiday visit to your home may turn into an emergency room visit if your guests trip over an uneven concrete sidewalk slab in your front yard that they did not see. Avoid that scenario and have your uneven sidewalk raised and repaired!
What to do?
Polyurethane mud jacking or Foam Jacking can be done to raise your uneven sidewalk and driveway until the time the ground freezes.No one knows for sure what day that will be this year. The best action for this situation would be to get a quote now and open the door to have your sidewalk and driveway repaired yet this year. If the timing does not permit the repairs to be done before the snow season sets in, at least you have procured a quote to get the job or jobs done at current prices and will be one of the first to have your driveway repaired in the spring.
Repair your Uneven Concrete
Once you repair your driveway and sidewalk, it is recommended that you caulk the joints between the slabs to prevent the rains and melting snow from seeping into the ground below, which will make the void worse. Look at your sidewalk after it rains and check for standing water. Caulking will ensure that your repairs are permanent. Mud jacking foam expands 3 feet in either direction. The possibility for your sidewalk to sink again is rare. But if it does drop 3/8″ within two years of the repair (and your concrete is over ten years old), we will repair it for free.
If you cannot get your driveway and sidewalk raised with Concrete Raising Systems before next spring, make an appointment to do it as soon as possible. Raising and repairing your uneven sidewalk may save your guests an embarrassing tumble or injury, and you will ensure that your driveway cement is not chipped when the snow is plowed or shoveled.
This article was originally published in November 2014 and has been recently updated.